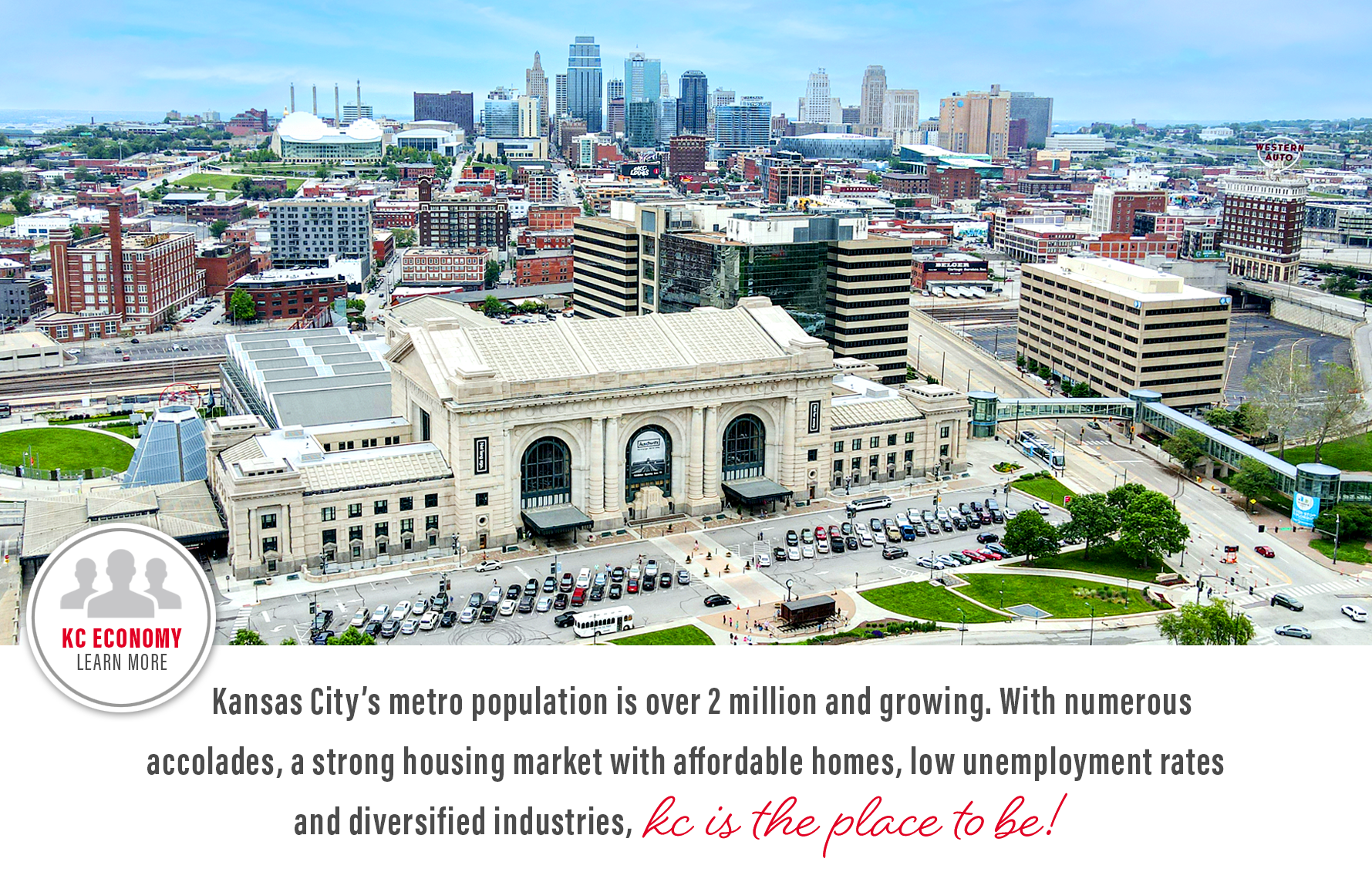 WHAT MAKES KANSAS CITY'S ECONOMY GREAT?

The Kansas City metro has a population of 2.16 million people (2021), an increase of over 15% since 2000, among the highest growth rates in the Midwest over this period. The region has experienced phenomenal corporate attraction and business growth, with companies across a range of economic sectors calling Kansas City home. The common thread has been the excellent value each company derived from the metro's talented and deep workforce, diverse operating environments, low cost of living, and amazing work-life balance.
Kansas City's economy is recognized as one of the nation's most diverse with no economic sector comprising more than 15% of overall employment and is a national leader of several durable industries which are integral to regional economic growth. Furthermore, Kansas City has increasingly become a hub for startups and entrepreneurs that are attracted to the metro's abundant talent pool and low office space costs.
KC AREA ACCOLADES
Kansas City #1 – Best City in the U.S. for Remote Work, 2021 Lonely Planet, 2021
Kansas City #3 – in the Nation for High Paying Occupations News & World Report, 2022
Kansas City #3 – Cities for Tech Industry Growth KC Tech Council, 2021
Kansas City #3 – Best-Paying Metros for Recent College Grads, Self Financial, 2021
Kansas City #8 – America's Hottest Job Markets, The Wall Street Journal, 2022
Overland Park #1 – Best Cities to Buy a House in America, Niche, 2022
Overland Park #2 – Best Places to Raise a Family, Wallet Hub, 2022
Overland Park #4 – Best Cities to Live in America, Niche, 2021
Overland Park #7 – Best places to live in America, Money.com, 2021
Overland Park #8 – Cities with the Best Public Schools in America, Niche, 2022
Prairie Village #1 – Most Popular Market in the US, Zillow Group Inc., 2021
KC METRO STATISTICS
2,188,599 – Population (2021)
8.9% – Population Growth (2010-2021)
2,281,512 – Estimated 2026 Population
864,791 – Households (2021)
903,027 – Estimated 2026 Households
$92,146 – Avg. Household Income (2021)
38.3 years old – Median Resident Age (2021)
$309,821 – Avg. Home Price (2021)
39% – Population 25+ with Bachelor's Degree or Higher (2021)
42 – Colleges & Universities in the KC Area
14.4% – Employment Growth (2010-2021)
2.7% – Unemployment Rate (2021)
45,000 – Acres of Metro Parks
25+ million – Visitors Annually (2018)

HOUSING ECONOMIC OVERVIEW

While Kansas City employment is still 1.8 percent lower than it was prior to the pandemic, the local labor market is extremely tight. In fact, the Kansas City unemployment rate was just 2.8 percent in July 2022, the lowest figure ever recorded. As a result, housing demand continues to remain strong.
After rising sharply during the first half 2022, the 30-year fixed mortgage rate bounced between 5 and 5.5 percent during the summer of 2022 as markets struggled to assess how Fed policy would affect inflation and economic growth. The Mortgage Bankers Association believes the Fed will navigate a soft landing. They forecast that mortgage rates will fall to 4.9 percent by the end of 2023.
HOME SALES AND CONSTRUCTION
Demand has softened slightly due to rising mortgage rates since the beginning of 2022. Nevertheless, the real reason sales have slowed in 2022 is because of a lack of homes available for sale. Sales should rebound in 2023, rising 5.6 percent to 44,290 units.
After strong gains in 2020 and 2021, single-family permitting activity in the Kansas City metropolitan area slowed considerably in early 2022 due to supply chain issues and labor shortages. New home construction picked up a bit in the latter half of 2022 but was still down from 2021. Permitting activity should drop again slightly in 2023, falling 1.7 percent to 6,185 units.
HOME PRICES
Although it may seem like the recent explosion in home prices was due to the pandemic, it has actually been the result of supply problems that have been building for years. In fact, there were less than half as many homes available for sale at the beginning of 2020 than there were back in 2011.
As a result, Kansas City has been in a sellers' market—with less than a 4 months' supply of homes available for sale—since at least 2015. Even if there is a significant softening in demand due to higher mortgage rates, it will take a long time for Kansas City to return to a balanced market.
The frenzied demand that characterized the market through the early part of this year appears to have eased. Nevertheless, extremely tight inventories will continue to put upward pressure on home prices. We project that Kansas City metro area home values will slow to a more normal, but still quite strong appreciation ratee of 6.5 percent in 2023.
Housing data courtesy of KCRAR and the WSU Center for Real Estate.

INDUSTRY STRENGTH

Biosciences – The Kansas City region is a proven global leader in animal health, drug development, diagnostics and clinical research, and its central location provides access to a vast network of companies, organizations and resources that support further growth in the industry.
Distribution & E-commerce – In the past five years, the Kansas City region has successfully attracted eCommerce and distribution companies pledging to create more than 10,650 jobs, invest nearly $2 billion and occupy 17.8 million square feet. Current eCommerce and distribution companies in the Kansas City region include Amazon, Chewy, Malaleuca, Niagra Bottling, and Walgreens.
Data Centers & Tech – Kansas City is an excellent market for technology services and data centers with an exceptionally deep talent pool, world-leading network infrastructure and a diverse operating environment. With over 5.5 million miles of fiber deployed, KC is the most connected region in the U.S.
Financial Services – Due to the technology, manufacturing and logistics facilities, research and development operations, and shared service centers primarily in finance, insurance and health care, Kansas City has become a highly popularized region for corporate attraction and business growth. This growth has sparked demand for high-end financial support services making Kansas City an active Midwestern hub for banking, accounting, audit, taxes, billing, and advisory services.
Architecture, Engineering & Building – A well-established culture of innovation and robust infrastructure has put Kansas City on the map as a nerve center for architecture, engineering, and construction services. Additionally, a dedication to creating leading-edge education and training programs has resulted in providing a strong market for talent. Over 18,000 individuals are employed in architectural and engineering services which is 54% more concentrated than the national average.
BIGGEST PRIVATE-SECTOR EMPLOYERS
AventHealth – Health care system with two hospitals in the Kansas City area
Amazon – Internet retailer, cloud computing giant and owner of Whole Foods Market
Black & Veatch – Engineering, procurement, consulting, and construction company
Burns & McDonnell – Engineering, construction, and architecture firm
Children's Mercy Kansas City – Nonprofit pediatric hospital providing care for children from birth through age 21
Commerce Bank – Bank offering full line of banking services, including mortgage, payment solutions, investment management & securities brokerage
FedEx Corp. – Multinational delivery services company
Ford Kansas City Assembly Plant – Production facility for F-150 pickup, Ford Transit, and E-Transit vans
Garmin LTD. – Provider of smartwatches and GPS-enabled products across diverse markets
Hallmark Cards Inc. – Conglomerate of businesses, including Hallmark Global, Crown Media Family Networks, Crayola, and Crown Center
HCA Midwest Health – Health care system consisting of hospitals, trauma centers, ERs, pediatrics, urgent care, surgery centers, and physicians' offices
Honeywell Federal Manufacturing & Technologies LLC – Manager & operator of the National Nuclear Security Administration's Kansas City National Security Plant
Hy-Vee Inc. – Grocery store chain
Oracle Cerner – Health care technology, services, and support company
Saint Luke's Health System – Health care system consisting of 16 area hospital locations plus several primary and specialty care practices
T-Mobile US Inc. – Wireless carrier, network provider, and telecommunications company
UnitedHealth Group – Diversified health care company
University Health – Academic medical center, two acute-care hospital health systems, centers for specialist, surgery, women's & primary health
UPS – Shipping and logistics company
Walmart Inc. – Retailer

CONNECTIVITY & COMMUTING
Air – The Kansas City International Airport (KCI), the most active cargo-carrying air center within a six-state region, made a $1.5 billion terminal renovation project. The new terminal, opening in 2023, supports more efficient airline operations, including air cargo and on-airport intermodal real estate development. The new airport also adds many new seats and destinations, including 44 new nonstop destinations for passengers coming to and from KC.
Fiber – The first city in the world to receive Google Fiber and home to the newly blended Sprint/T-Mobile operations center and major AT&T regional facilities, Greater Kansas City enjoys the benefit of one of the world's most advanced telecommunications networks. With over 5.5 million miles of fiber deployed, KC is the most connected region in the U.S.
Highways – With 30% more interstate miles per capita than any other city in the world, the Kansas City metro area's traffic flow offers drivers an efficient commute that average only 23 minutes, placing Kansas City among the nation's top 10 cities for best commutes.
KC Streetcar – Since opening in 2016, the Kansas City Streetcar has completed more than 10 million passenger trips, won numerous state and national awards, and has been credited with stimulating over $3 billion in active economic development in Downtown Kansas City. The line is currently undergoing a $350 million southern extension to the Country Club Plaza ("Main Street Extension") and $22 million northern extension through Berkley Riverfront Park ("Riverfront Extension"). When complete in 2025, the 7-mile line will provide free, efficient transit through the entire urban core while also fueling economic expansion and job growth.
Rail Lines – Kansas City is the largest rail center in the U.S. by tonnage and is served by five Class 1 rail lines. Four of the Class 1 rail lines have intermodal facilities that are significant hubs in the national network. Three of these facilities have industrial park developments adjacent to the rail facilities and real estate ready for new occupants.