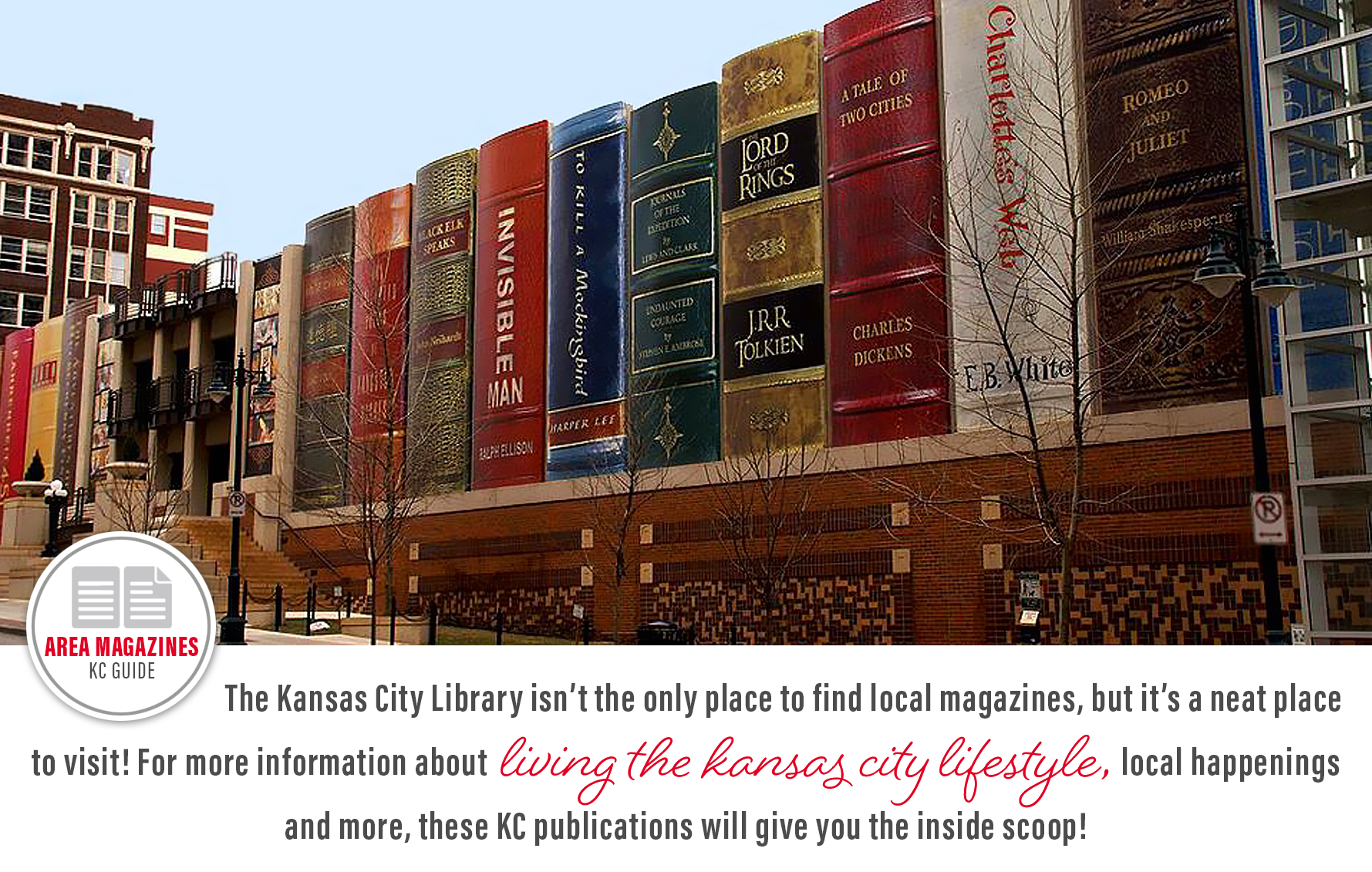 KC MAGAZINES | HOMES, RELOCATION & VISITOR GUIDES

Kansas City Homes & Style – This lifestyle magazine tells the story of remodeling, design, outdoors, and beautiful homes. You can learn about dynamic people in the community, as well as local businesses. One of the most appealing sections of the magazine is the introduction to new restaurants in the area that you should try out. The magazine is focused on letting you learn about everything trendy and exciting in the local area.

Visit KC – Visit KC is an organization dedicated to being the heart of the tourism industry in Kansas City. Their mission is to create global passion for Kansas City. This is the best place to find insider tips, local favorites, and info on what's happening and to stay current with seasonal attractions, deals and more. Order your official visitor's guide to KC here.

KC Relo – KC RELO Magazine is KC's ultimate guide to relocating to and around Kansas City. From new construction to remodeling, re-sale real estate, real estate agents, distinctive neighborhoods, local schools, local shopping, restaurants for the foodies, entertainment – to healthcare options – to the profiles on Kansas City's friendly people – this luxury periodical offers insight into all things KC. The magazine can be found in high traffic locations, or you can request a copy here.

KC MAGAZINES | LIFESTYLE
Black Kansas City – Kansas City's multi-award-winning powerhouse for everything to help grow, empower, and unify the city's black community. This magazine is destined to become the most popular publication showcasing the black and minority KC lifestyle, arts, and culture.
City Lifestyle, Kansas City – City Lifestyle is the destination for local living— a one-stop-shop for hyper local, expertly created content for you that inspires and connects our community. City Lifestyle sets itself apart by emphasizes the best of what KC has to offer, created and promoted by the people who know it and represent it best. These authentic voices provide an inspiring, genuine, and trusted look at life in the community. They inspire, instruct and uplift readers through entertaining articles, detailed and searchable listings of local restaurants and businesses, and by sharing unique experiences and events in and around our town.
HerLife Magazine – HERLIFE Magazine is a full color publication with the mission of Keeping Women Connected. Each month our magazines are dedicated to the celebration of all that is exceptional in our community. From the inspirational women we promote to interesting topics such as health, beauty, and fashion to what's going on locally in Kansas City, we strive to keep today's women connected to the things they need and want.
IN Kansas City – IN Kansas City lives both on and off the page—a print, online, and custom content company. They aim to be the city and lifestyle content provider, in print, social media, and online, for Kansas Citians interested in what's happening in the metro. They're all about amazing experiences, music news and reviews, what theater to see, the latest fashion trends, exquisite homes and gardens, restaurant reviews, what's new and who's who.
Kansas City Magazine – Covering the greater Kansas City area, this magazine loves KC like family! They know what makes it great and they know its secrets. Through great storytelling, photography, and design, they help their readers celebrate our city's triumphs and celebrate the things that make it unique. The magazine covers a range of topics including human interest, business, food, fashion, and lifestyle in Kansas City.
KC Parent – Originally founded in 1985, this magazine is dedicated to keeping parents aware of what is going on in the local community. It is a free publication and offers information on family-friendly events, parenting advice, and more. For more than 25 years, this magazine has been the top source for all things related to family fun in Kansas City.
Simply KC Magazine – SIMPLYkc Magazine spotlights local Kansas City businesses and their owners here in the greater metro area, giving their readers a deeper insight into who they are and what they are about. SIMPLYkc provides home and garden tips, tips for parenting, and tips for "green living".

KC MAGAZINES | BUSINESS & ECONOMY
Ingrams – For more than 40 years, Ingram's has been present in Kansas and Missouri. There is no other publication that works harder to cover economic, industry, and business development trends through the bi-state area. This is your gateway to business statistics, features, and news relevant to the area. You can find stories that keep you informed about business affairs in this region.
Thinking Bigger – The mission of this magazine is to help small businesses "think bigger" so that they can grow bigger. This is done by sharing resources and information across several platforms. The magazine is published in monthly and annual editions. You can also sign up for weekly email newsletters, tune in to online radio shows and attend live events hosted by the magazine.
KC MAGAZINES | LOCAL MUSIC & THE ARTS
The Independent – Established in 1899, The Independent is Kansas City's longest-running magazine. Unique in its field, it is the only publication to focus primarily on the cultural, philanthropic, and social aspects of Our Town.
KC Studio – KC Studio Magazine covers the performing, visual, cinematic & literary arts, and the artists, organizations and patrons that make Kansas City a vibrant center for arts and culture.
The Pitch – If you want to stay updated about events going on in Kansas City, then The Pitch magazine is a must-read. This magazine has categories including news, food & drink, music, A&E, and more. You can browse through the pages and easily find upcoming activities for kids and families. You can also read reviews, learn about new art exhibits in the area and more. The Pitch is considered Kansas City's alternative news source and full of information you will find exciting and informative.
KC MAGAZINES | HISPANIC
Dos Mundos Kansas City – Dos Mundos is the leading news source for the Kansas City Hispanic community providing news and information in both English and Spanish.
KC Hispanic News – A bilingual English to Spanish publication providing an excellent medium that focuses on hometown journalism.